Gas Turbine Insulation
Convenient:

is designed to be able to be removed and replaced easily and quickly by any personnel.  They use a simple closure system of velcro and D-rings, with seal flaps used to connect the removable jacket to the adjacent insulation.

Cost-effective: The turbine has the benefits of reducing heat loss to 135 BTUs per square foot each hour and reducing the component's touch temperature from a scorching 750°F down to 145°F.  Think of how much money this saves, all while reducing worker safety hazards.
High quality: Our turbine is painstakingly designed and crafted to remain effective under harsh conditions for extended periods of time. As with all Thermaxx Jackets, we stand behind our turbine insulation with a 5-year guarantee.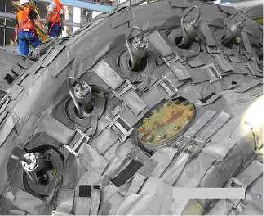 Why we are Unique in Gas Turbine Insulation
Olam Tech – We are offering our clients' a qualitative range of
which are a flexible source of shaft or propulsion power in a growing number of applications. Our group is well supported by young and dynamic engineers and technicians for offering a qualitative range of Gas Turbine Insulation. Our products & services are qualitative & economical alternative to different original equipment manufacturers around the world in the above areas
is a type of internal combustion engine that converts the chemical energy of fuels into mechanical energy in the form of rotational power. This mechanical energy can be used for powering various industrial processes. The advantages of a gas turbine include high reliability, low operating costs, and high-power density.  The Gas turbine can also be operated with clean and renewable sources of energy thus reducing carbon emissions.


Gas Turbine Insulation Kuwait

Gas Turbine Insulation in UAE

Gas Turbine Insulation in Kuwait

Gas Turbine Insulation UAE

Gas Turbine Insulation suppliers

Gas Turbine Insulation suppliers in Kuwait

Gas Turbine Insulation suppliers in UAE

Gas Turbine Insulation suppliers Kuwait

Gas Turbine Insulation suppliers UAE
We are the foremost manufacturers of Gas Turbine Insulation
Our Olam Tech professionals were offering the Gas Turbine Insulation with the latest and sophisticated infrastructural facility. Our infrastructural facility is segmented into enormous sections such as procurement section, production section, research and development section, quality control section, logistic section, etc. All these units are armed with pioneering machines, technology, and types of equipment for a streamlined workflow. We have recruited a team of dedicated and hardworking professionals who belongs to the department of Gas Turbine Insulations to meet the exact requirements of the patrons.
Our promoters of
years of experience in the field with the successful execution of complex dimensional assemblies, vast metallurgy issues combined with capabilities and expertise will enhance the organization to focuses on customer service and understands the challenges faced by plant owners, operators, and maintenance personal. Our Gas Turbine Insulation's professionals are hired after testing their talent and skills in their associated field. Additionally, our team of professionals struggles hard to meet the exact necessities of the patrons in an efficient manner.